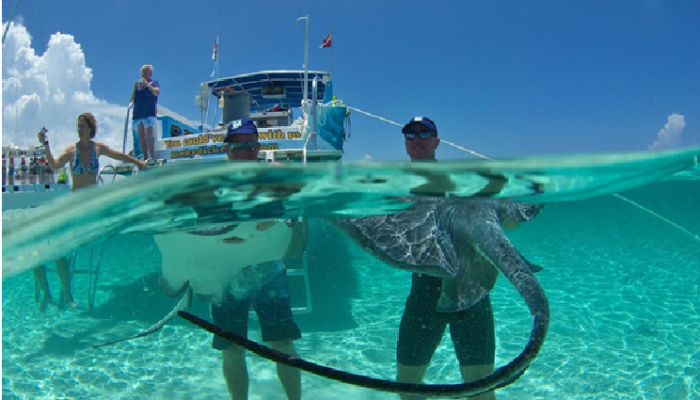 Whether you are visiting the Cayman Islands to soak up some sun or to try a new water sport, you won't be short on things to do. The islands are famous for their beaches, clear waters, and diverse marine life. A trip to the Cayman Islands is a chance to meet stingrays and starfish up close and personal, explore the islands' history, and taste some local rum. If you have some Cayman villas shortlisted and you would like to put together an itinerary, read on for a few helpful suggestions.
Stingray City
The Caymans are known for their wonderful marine life, clear waters, and stunning reef systems. It is a mecca for scuba divers and snorkelers, but one attraction that needs to be at the top of your list is a trip to Stingray City.
A Stingray City excursion is one of the most popular activities for visitors to the Cayman Islands. Dozens of boat trips head out every day to the offshore sandbar where the stingrays hang out. The water is really shallow here, so you can observe these gentle creatures up close, touch them, and even take stingray selfies if you are careful.
Swim with Turtles
Once you have had your fill of stingrays, head over to the Cayman Turtle Centre. This wonderful research and conservation centre will educate you about these endangered beauties, and your ticket money will go towards helping these magnificent animals thrive. The centre also gives visitors an opportunity to swim with turtles in a safe, controlled environment.
Dive around the Kittiwake Shipwreck Artificial Reef
The Kittiwake was a US Navy submarine before it was deliberately sunk off the coast of Grand Cayman. It is now home to a myriad of wildlife, including turtles, eels, barracuda, shrimps, and grouper fish. The Kittiwake is a popular dive site for novices and experts alike. Beginners love it because it is relatively shallow and easily accessible, but there are plenty of challenges for experienced divers too. You can even snorkel over the Kittiwake, as the area is teeming with fish and the wreck is clearly visible from the surface.
Go Snorkeling at Smith's Cove
There are many opportunities to snorkel around the Cayman Islands, but Smith's Cove is one of the best. Smith's Cove is a short distance from Seven Mile Beach on Grand Cayman, one of the island's most popular beaches. This makes it simple to get to and within easy reach of all the amenities you need. Bring a cooler full of drinks and food, and make a day of it. There are wonderful rock formations and the snorkeling is excellent. Why not hang around until the sun goes down and have a beach BBQ?
Take a Trip to Hell
No, not that hell! 'Hell' on Grand Cayman is a rock formation. It is actually rather scenic, and a great opportunity to pick up a t-shirt from the gift shop that tells everyone you went to Hell. You'd have to be crazy to miss out on a wonderful opportunity like that!
If all of these activities whet your appetite, add island hopping to your list too.