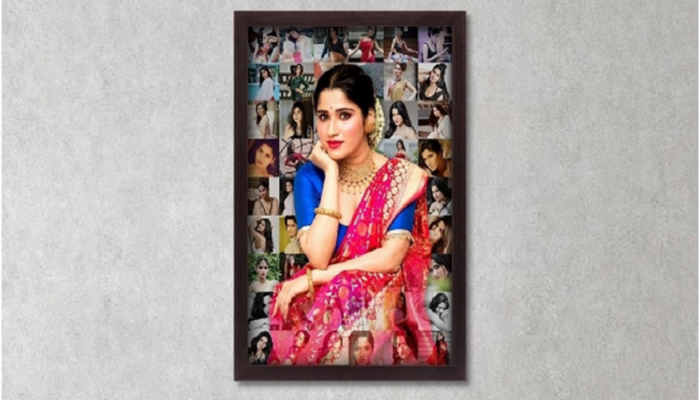 Pictures are the best way to capture a memory and preserve it forever. Picture gifts are the perfect choices when it comes to celebrating a special occasion like your loved one's birthday or anniversary. A picture describes a lot that hardly words can do. So, when you want to celebrate your best friend's birthday, there's nothing can do better than a picture gift. What can be more special than a photo collage wall décor art to celebrate this family day?
Here, is how you can create the most unique picture gifts for your loved ones.
Heart snapshot photo frame: have a bunch of photos and cannot decide on just one to frame? Here's how you can use a cute heart template to organize all these photographs to be printed on a single photo frame. Choose a picture personalizing software to get such readymade templates. Otherwise, you can buy a photo collage online. Such online stores offer their customers to customize a gift as per their requirements.
Personalized wooden plaque: if you are looking for a classy gift to give on your parent's anniversary, photo plaques are a great option then. These are curated on a real hardwood plaque. The shape and size you can choose as per your preference. The personalizing artist will imprint your selected picture on it. Also, you can choose to engrave the photograph on it. It will look amazing when placed on the bedside table or in the living room showcase.
Personalized clock: clocks are essential and can be given to anyone. You can easily make an ordinary table clock or a wall clock by personalizing it with a picture collage or some quirky messages. The personalizing artist will design as per your requirements. Gift a photo-printed table alarm clock to the youngest member of your family. It also can be a good choice for your friend's birthday.
Photo printed pillow: celebrate your friendship or siblinghood with a personalized satin pillow. This cutesy pillow will add a different dimension to your couch. Add a cute photograph of your sibling as a token of love and affection. Also, you can add some funny messages with the picture to make the personalization more attractive.
Personalized photo printed pair of teddies: want to give something romantic and cute to your girlfriend on this upcoming Valentine's Day? A pair of cute teddies will do the job for you. This pair of cuddly teddies have an adorable heart-shaped cushion where you can add your favourite photograph. A romantic photograph of you two will look great to be printed here. Your girlfriend will love such an adorable gift.
Personalized photo printed mobile stand: you can buy gifts in India from personalized gift shops to give your loved ones. A personalized photo-printed and name-engraved mobile stand can be a great choice to give your boyfriend on his birthday. It helps him to keep his mobile phone perfectly when not in use. Also, he will remind your love every time he looks at this.
Hope, this article will help you a lot when buying personalized gifts for your friends and family members.