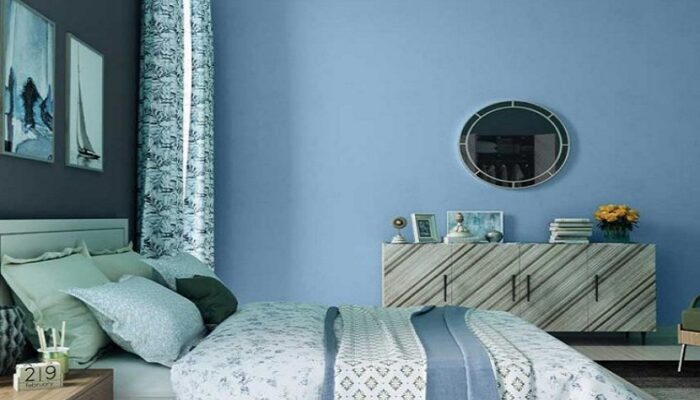 Painting your home in neutrals is far from boring. When you visit a paint store, you would be surprised by the number of different shades every neutral hue has. People often tend to pick up a neutral colour palette for their home as it provides a blank canvas for them and allows them to experiment with colours and patterns when it comes to the fabrics, furniture and other décor elements of their houses.
Today neutrals are no more just white, beige, black and brown. There are warm neutrals like ivory, beige, and taupe and cool neutrals like lilac, ice blue, and pale blue and then you have muted paints for walls like sage green, mint, dust pink, blush etc which also are considered as neutral colours by many interior designers.
Looking for a neutral hue for your new home? We have brought to you 5 chic neutral shades which will make your guests swoon.
Ice Cube 
Looking for a cool neutral hue for your home which is light and airy? Look no further than the Ice Cube colour by Asian Paints. This muted and pale blue wall paint is delicate and refreshing and will instantly make your space calm and grounding. We recommend you use this hue for your bedroom as it will help you transform it into a peaceful sanctuary. You can also consider using this hue for your living room, dining room, kitchen or powder room. Go for white, ivory, off-white, light cream, deep blue, midnight blue etc when it comes to choosing linens, furniture and other décor elements of your room.
Bamboo Straw-N
Have a bohemian house and are looking for a refreshing and cheery hue for your rooms? You should check out this hue from the Asian Paints paint catalogue. Bamboo Straw-N is a light beige hue, which is so versatile that you can use it for almost any room. This hue pairs perfectly with white and will instantly make your space appear chic and serene. We recommend you add a touch of green into your space if you are using this hue to add a pop of colour to your space.
Nutmeg Sprinkle-N
Love the autumn season? People who are big fans of earthy tones would love this colour from the Asian Paints paint catalogue. Nutmeg Sprinkle-N is a gorgeous light terracotta colour, which reminds you of fallen leaves, pumpkin spice latte, cinnamon cookies and everything that the autumn season brings along. This colour is perfect for people who have bohemian, mid-century modern, vintage, farmhouse or cabin-style houses. You can introduce this hue to your bedroom, dining room or your kitchen. Some colours which pair well with this intense hue are white, beige, cream, olive green, grey and brown.
White Butter
White Butter by Asian Paints is a light cream hue with a hint of blue. This hue is perfect if you are using a cool tone palette for your home. You can pair this hue with midnight blue, purple, lilac and other paints for walls which have a cool undertone. You can either use white butter for all the walls of a room or use it as an accent colour along with a darker hue.
Zen Mist 
Zen mist is a pale mint hue on the Asian Paints paint catalogue, which is a refreshing neutral colour that you can use for your living room, dining room or bedroom. This neutral hue is sure to grab attention as even though it is muted, it is unique and quirky. You can either pair this colour with ivory, white, cream or with a deeper shade of green like sage green, bottle green or hunter green colour. People who have vintage, minimalist, tropical, mid-century modern style houses can consider using this hue for their abode.
So, which of these neutral wall paints are you most excited to introduce to your space in 2022? Visit the Asian Paints website to get colour inspirations for your new home and get in touch with their experts to create your dream home.