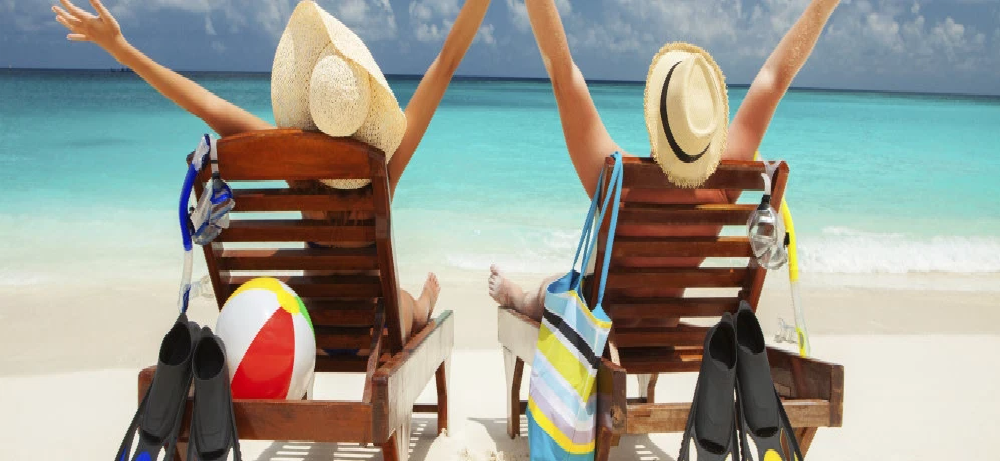 Party to the end of the night and enjoy the best of your next vacation without breaking the bank. Set a vacation budget and try not to exceed it.
Do you want to party in the sun without robbing your bank account?
Dance until dawn and party all night in one of the world's best discotheques does not necessarily cost an arm. Certainly, attending a set of a world-famous DJ will cost more money than a Friday night party in a neighborhood disco. However, there are many ways to go on holiday to party with friends and control your holiday budget. Discover six tips to have fun and party in the sun without breaking the bank!
1. Set up price alerts
Before boarding the plane loaded with goods purchased in a duty free shop (see Tip 4), the best way to travel without breaking the bank is to find a plane ticket at the best price. According to the tool " When reserved to savem Edited by Skyscanner, if you're heading to Ibiza – one of the most festive places in the world – the best time to buy a cheap flight ticket is three weeks before you leave. On the other hand, if you plan to go to Mallorca – another popular destination for party-goers around the world – it's best to book your plane ticket four weeks before your departure. If you have several destination ideas in mind, such as Ibiza or Croatia, do not hesitate to create price alerts for flights that interest you. You will be kept informed by e-mail if the price of the tickets you are interested in increases or decreases, which will allow you to buy a plane ticket at the best price with ease and to control your holiday budget between friends.
Learn more:
Find the best prices with Skyscanner price alerts!
Book a flight at the best price to Ibiza
Click on the image to find out more about the top 10 cities in Europe where to go to party
2. Be flexible about the dates of your trip
Being flexible about the dates of your vacation is a great way to find a cheap flight. Naturally, if you want to participate in a particular festival or attend the set of your favorite DJ, you will not necessarily have the choice regarding your dates of holidays. But if traveling with tired red eyes does not scare you, then you can save a lot of money. In any case, you will not sleep much during your holiday week, so do not hesitate to take a night flight to save money on your flight. By paying attention to your vacation budget with friends, you will be able to make unforgettable parties once you have arrived at your destination.
Learn more:
• How to find a cheap trip?
• Use Skyscanner as a pro
• 6 tips to help you find the perfect flight
Find cheap airline tickets
3. Find a hotel at the best value for money
Accommodation can cost the eye of the head, especially during the festival period or during peak tourist season, especially in summer. Find the best accommodation deals with Skyscanner's hotel search function ! Some hotels, especially those that will host festivalgoers coming for " Ibiza Rocks " and " Mallorca Rocks ", offer discounts if you book your room well in advance. By setting your holiday budget between friends before you leave, you will know which accommodation will be best suited.
Find your hotel room
4. Do not buy all your alcohol at nightclub
The entrance to the trendiest nightclubs is far from being given, not to mention the bewildering price of drinks (count almost 10 € for a non-alcoholic soda!). The drinks – especially the cocktails – are extremely expensive and you will quickly spend months of savings in shots of sambuca or mojitos without realizing … To party without (too) ruin, spend the evening in a bar in the city center where you can drink a few drinks at reasonable prices. Stock up on duty free on the way out or drink some local liquor before heading to the discotheques. If you want to do your before outside, prefer the bars that offer _happy hours _ to enjoy the drink with friends without breaking the bank.
Your holiday with friends around the world at the best price
Click on the image to discover 10 tips for traveling cheap
5. Become friends with flyer distributors
A good way to avoid paying fees or consumptions at exorbitant prices is to identify people who distribute flyers giving entitlement to discounts or free drinks if you arrive before a certain time of night. Becoming a friend with flyer distributors is a great way to keep up to date on the best parties and special offers, enough to party until the end of the night while controlling your vacation budget with friends.
Book a cheap flight with your friends
6. Like nightclubs on social networks and benefit from exclusive offers
Like on social networks (Facebook, Twitter, Instagram …) the bars and discotheques where you intend to go during your next vacation. Often, in exchange for your "support", you get special offers on drinks and the price of entry to the disco in question. In some cases, your name will be added to the "luxury" guest list, giving you access to VIP lounges – the perfect way to enjoy 110% of the evening after spending days saving money. candle