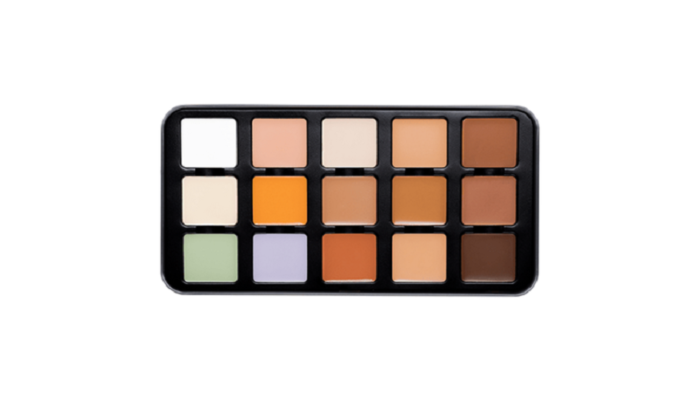 Whether you're looking for foundation or concealer, it might be challenging to choose the appropriate shade on your own. Finding the right concealer might be more challenging because of the limited shade selection and the necessity of taking into account your primary issues, such as dark circles and acne. Choosing and deciding to buy concealer online undertone gets more tricky than with foundation if you're trying to color-correct, but a lighter shade is good for brightening your under-eyes, and you'll want a closer match to your skin tone to conceal blemishes and scars.
Color-Coordinating Your Concealer
Whether you're trying to hide blemishes, dark circles, or something else, the color and undertone of your concealer should reflect that.  People often make the mistake of using the same concealer that they might cover a pimple with, which usually doesn't work. When recommending concealer makeup online with an orange or peach-toned solution instead for the eye area. Experts always recommend something with a peach undertone (for lighter skin) or an orange undertone (for darker skin) to cover. The orange in the concealer will counteract the blue under your eyes for a smoother transformation, she said.
How to Find Your Perfect Concealer Shade?
Whenever possible, it's better to select the perfect concealer shade by trying it on in person. Experts recommend  testing products along the jawline or inner wrist to determine your undertone. Concealer swatches should be done in daylight if feasible because indoor lights might distort the color. Liquid concealer is ideal because it works with any skin tone. The most adaptable form of concealer, liquid concealer works equally well on normal, oily, and dry skin.
Buildable
Coverage-wise, liquid concealer is more versatile than its thicker counterparts, as it can be applied sheerly or built up to a more opaque finish without seeming cakey.
In a variety of coatings: Dewy, matte, and satin are just some of the many available sheens for liquid concealer. Because of the variety of alternatives, you can pick a solution that complements your skin and helps you reach your goal. 
Finding the Right Shade of Liquid Concealer
When you should first evaluate your undertones, skin tone, and the imperfections (such as acne, uneven pigmentation, or dark circles) you wish to hide. If you want to hide a color flaw, use an undertone that is the complete opposite of it on the color wheel. The vast majority of concealers are organized not just from dark to light, but also from warm to neutral to cool, with the greatest variety accessible in liquid formulations.
When selecting a concealer, it is important to consider not just the region you wish to conceal but also your skin tone and undertones. It is recommended to use  the peach and orange tones as an option for under-eyes, while the more universal stick concealers offer a wider selection of colors to complement your overall skin tone. Use a concealer with a cooler undertone or a color-correcting primer to neutralize redness and other heated discolorations.
Color-Coordinating Your Cream Concealer
Since cream concealers are ideal for spot concealing, you should select a hue that both contrasts with the flaw you're trying to hide and is harmonious with the rest of your cosmetics. Look for a product that adds some golden or pink tones to your regular foundation hue if you need to hide hyperpigmentation patches that lean toward purple.
 Concealer on a stick
Stick concealers can be applied directly from the tube and blended out with your fingertip. It recommended using  a shade with a salmon or orange undertone to cancel out any blue or purple tones on the complexion while concealing dark circles.  Hydrating Concealers  are best because,   it has the ideal balance of salmon and orange tones for concealing.
When using a cream concealer, start with a tiny amount and add more as needed. Apply the product to problem areas with a synthetic concealer brush and mix with a beauty sponge.
Discover the best concealer for your complexion.
Make sure you have a foolproof method for hiding your marks  before you get started. Do you seek a hydrating and non-heavy concealer ? Do you seek an all-day, full-coverage formula? There are about eight billion different concealers available, so try out a few different formulas until you discover one that works for you. And of course, if you want any recommendations, the following are excellent choices to consider:
Do skin prep before applying concealer.
It's debatable whether concealer should be used before or after foundation, but unless you're trying for a natural, no-makeup look, it's best to use it after. Most of your concealer will be wiped away when you put your foundation or powder on top of it. However, if you apply foundation first, you can reduce the amount of concealer you use while still achieving excellent coverage. It's almost as if you're putting it on top of something else, like a basis.
Green concealer is great for covering up redness.
Concealer Choose your tools
There are three types of concealers that are widely used, and they each have their own advantages. With your fingertips, the heat from your fingers will melt the concealer effortlessly into the skin, creating a natural finish.
Makeup sponge: a damp beauty sponge will soften and absorb excess product, allowing for lighter, more natural coverage on the skin. For fuller coverage, use a concealer brush and apply the product with light, continuous stippling motions. Use circular motions to blend out the product, or lightly bounce a moist makeup sponge around the area for a streak-free finish. 
Conclusion
When you find that your regular concealer isn't doing the trick when it comes to hiding blemishes or red areas, consider switching to a green solution, which acts as a natural redness neutralizer. Honestly, setting your concealer with powder may be the most crucial step. Don't bother perfecting your concealer application if you're not going to set it with powder. To prevent your concealer from creasing, dust a little setting powder over your entire face.