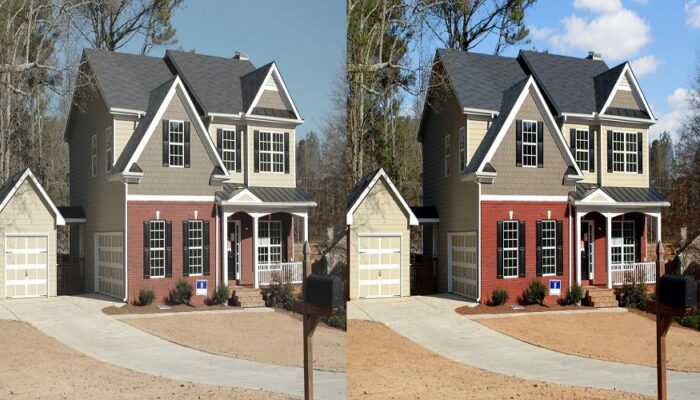 Now more than ever, it has become imperative for businesses to maintain and build a strong online presence. Incorporating digital marketing into your business operations can help you grow and improve the overall efficiency of your company. The real estate industry is no exception. To gain credibility for selling properties, you need to attract your potential buyers and convert them into paying clients. One way to do this is by incorporating high-quality images that highlight the amenities while showcasing the properties.
This allows the viewer to get a good idea of the property. It is easy to improve your real estate pictures with the use of picture editing software. By using software, you can remove various defects, add interesting details, correct colors, and fix lighting issues, among other things. Your business can gain more customers, sell properties faster, and stand out from your competitors with high-quality interior and architecture photos.
There are numerous editing tools available today in the market that can provide you with the assistance you need. Many businesses tend to outsource this service to attain efficiency and effectiveness.
However, before diving into that, let's understand in depth how such software can prove to be beneficial for a real estate agent.
Importance of Photo Editing Software for Real Estate Firms
Dealing in real estate requires you to create an emotional connection with your clients. If someone is buying a family home, they might want to get a few good looks before deciding to visit the site. Therefore, an image listing is a perfect way to do so.
Photo editing software is important in real estate because it allows real estate agents and photographers to enhance the appearance of properties in marketing materials, such as listing photos. This can include adjusting lighting and color, removing unwanted objects, and even digitally staging a room to show potential buyers what it could look like with furniture. By making properties look as attractive as possible, photo editing software can help to increase interest and sell the property more quickly.
Read on to find out the best software that provides you with proficient photo editing services for real estate.
Top Real Estate Photo Editing Software
Following is the list of the top photo editing software that you can either leverage or outsource from a professional.
Adobe Photoshop
Adobe Photoshop is an all-purpose software. With numerous features like digital staging, virtual renovation, and photo enhancement, this software is at the top of the list for many real estate businesses. This is an advanced photo editing software that allows for more extensive editing, including the ability to add and remove elements from photos.
Adobe Lightroom
This software is widely used by professional photographers and enables detailed adjustments to light, color, and other elements. It also includes tools for organization and workflow management. By using the Library module of this software, you can manage and organize many photos. Lightroom makes it easy to share your photos on different platforms, allowing you to quickly share your real estate listings with potential buyers.
Luminar 4
Aa a newer software, it offers a more user-friendly interface, extensive editing tools, and the ability to apply presets to your photos for a more efficient workflow. Many features of this software make it a top choice for real estate photo editing services.
Aurora HDR
This software is specifically designed for high-dynamic range photography. This software can be used by real estate businesses to enhance the appearance of properties in marketing materials, such as listing photos. Aurora HDR's presets feature allows you to create custom presets that can be applied to multiple photos, which can help to create a consistent look and appeal to your property listings.
Polarr
This photo editing software gives you access to many free features and allows you to curate new features. If you are on the lookout for software suitable for landscape photography, then this should be at the top of your list.
Corel PaintShop Pro
This software is known for being efficient and easy to use. It allows you to enhance the quality of your property images and remove unwanted objects from the same. Further, it can be used to add any element you wish to add to the images.
Conclusion
Outsourcing editing services provide you with access to professional services as well as state-of-the-art technology. To make a great image listing for your buyers, you can choose a third party with innovative photo editing software. However, the decision to choose the best photo editing software will depend solely on the type of images to be edited and specific real estate needs.