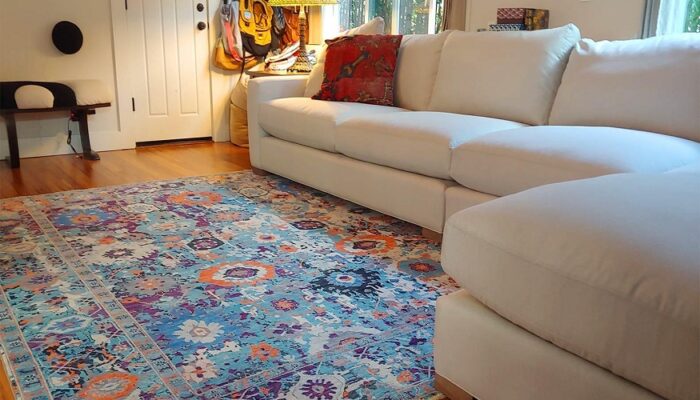 In the home décor world, everyone understands just how important area rugs are. The truth is that rugs can make or break a room's entire ambience, which is why it's so crucial for online rug shoppers to do their homework and always purchase the right size, shape, color and style that suits their specific needs.
One of the most intriguing area rug styles in today's marketplace is Gabbeh carpets, and this page is dedicated towards providing some of the top reasons why rug shoppers should consider Gabbeh rugs for their home.
We've collaborated with Rug Source Inc., one of the top online rug outlets in the United States, to create this list oriented around Gabbeh carpets, so here's the industry expert advice you need in order to understand why Gabbeh rugs are so popular!
Gabbeh Carpets Are Always Very Eccentric & Aesthetically Traditional
A lot of rug shoppers love Gabbeh carpets because they truly provide the best of both worlds in terms of traditional aesthetics and designs that stand out. Gabbeh rugs also have a very rich history that dates back to the origins of Persian rug making.
But Gabbeh rugs are usually a lot simpler as compared to complex, large area rugs. Gabbeh rugs don't offer a ton of elaborate intricacies with its designs, and the asymmetry associated with these carpets is a big reason why they're considered to be so unique.
Gabbeh Rugs Use An Incredible Weaving Process
Another unique feature of Gabbeh rugs is the weaving process that's required to make one of these works of art, and this process also creates unparalleled longevity and durability.
All Gabbeh rugs are made from 100% wool, and this special type of wool that is typically only found in Asia just so happens to be great for dying and hand-spinning. Although Gabbeh rugs typically don't have an extremely high knot count like other Persian rugs, the weaving process is still incredibly unique.
Making a Gabbeh rug requires all sorts of expertise and time-consuming tasks, which is why it often takes weeks and even months just to finish one product. There's no denying that this weaving process is incredibly unique, and it's a big reason why these rugs are so popular all around the world!
Gabbeh Carpets Offer Very Beautiful Designs & Patterns
There truly is an unlimited amount of options to choose from when you're considering your options of Gabbeh carpet patterns and designs. These patterns are known for their asymmetrical symbol placements and very bold colors.
Some of the common themes found on Gabbeh carpets include animals, people, plants and geometric shapes. And some Gabbeh carpets even tell a historical story!
Additional Décor Tips For Your Gabbeh Carpets
There are many ways that you can use Gabbeh carpets for your home's décor, and the following are some decorating tips to keep in mind for these types of rug investments:
Hanging Gabbeh carpets on your wall: Because Gabbeh carpets are usually so small and lightweight, they're considered to be great wall art. Hanging a Gabbeh carpet up on your wall will undoubtedly provide a unique aesthetic to your room, and it's an incredible alternative to traditional wall art as well!
Consider layering your Gabbeh carpets: Another décor tip for Gabbeh carpets is to layer them, which means place one on top of the other in order to cover up a larger amount of flooring space. So if you already have an existing carpet or rug in your room, you can place a Gabbeh on top of it and create a very nice aesthetic!
Contact Rug Source Inc. To Check Out Their Vast Selection Of Gabbeh Carpets!
Gabbeh carpets are wildly popular all over the world, and your home can also benefit from these unique rug styles. Shopping for Gabbeh carpets online is of course a lot easier said than done, which is why trusting a reputable online vendor is paramount to your shopping success.
Check out Rug Source's Gabbeh carpet page via the link at the beginning of the article and see the various options they have within this unique industry niche!