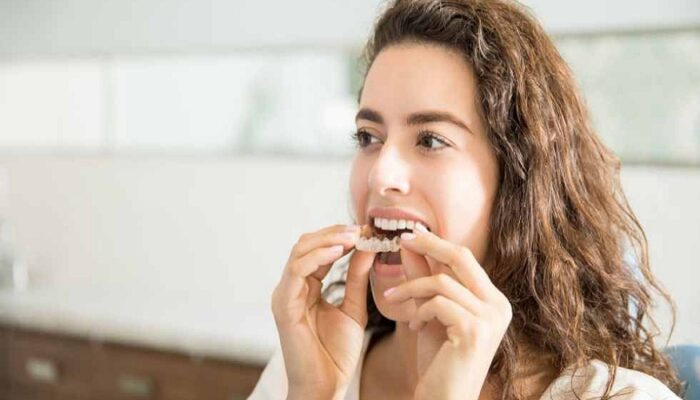 Gone are the days when one had to book way too many appointments with their dentist and wait for months to get braces and fix their teeth alignment. Thanks to the advancement in technology, you can fix your smile and get a perfect pearly smile from the comfort of your home. Clear aligners are ideal for people who do not wish to go through the hassle of having metal braces in their mouths. To make your decision easier on whether to opt for clear aligners, we have listed the ultimate pros and cons list.
What are makeO toothsi clear aligners?
makeO toothsi aligners are futuristic orthodontic devices that are a transparent and plastic form of dental braces. They help in the proper positioning of the teeth and their alignment. They are an ideal choice for you if you want an effective alternative to metal braces. All one has to do is brush their teeth, wash the braces and put them on. These pain-free, comfortable set of aligners will straighten your teeth and give you your picture-perfect smile back!
Pros of makeO toothsi aligners:
1. They are clear:
How wonderful would it be to wear a set of aligners but nobody even notices? Unlike metal braces treatments that are highly visible, these makeO toothsi aligners are not noticeable at all. Clear aligners are made up of translucent material that blends seamlessly with your teeth. With makeO toothsi aligners, you can eat, smile and talk with confidence, knowing that your braces are not going to show.
2. They are easier to clean:
If you have had metal braces before or know someone who has had them you must be aware of the struggles of keeping them clean. It is very tough to clean them due to the presence of brackets and hard wires. Clear aligners on the other hand are easy to remove and can be cleaned effortlessly.
3. Little to no restrictions in food:
There are many restrictions to eating solid foods when you are wearing metal braces. You have to stay away from hard foods as they may damage the setting of your metal brackets. With clear aligners, however, you can eat anything you want by simply removing the aligners while eating.
4. Lesser time for treatment:
The average time duration for traditional treatment with an orthodontist ranges anywhere between 15 to 24 months. Treatment with clear aligners can give you results within 12 to 18 months. This indicates that the time duration required with clear aligners is less, giving you equally reliable results with ease.
Cons of makeO toothsi aligners
While the pros far outweigh the cons, there are a few things you need to keep in mind while using makeO toothsi aligners. Hygiene is extremely important while using these aligners. You have to wash the aligners and brush your teeth every time before inserting them. If you want them to truly remain clear and not develop a yellowish stain, you must wash them regularly. If you compare the price of getting metal braces from a dentist and the tooth aligners cost, you might find that the clear aligners are a little bit expensive. However, if you compare all the other perks and fewer visits to the clinic, you will find that opting for makeO toothsi is the best option for you.
Final Takeaway:
If you wish to choose comfort and convenience over anything else, then makeO toothsi aligners can be your best friend. These clear aligners gradually control the tooth movement to fix problems like tooth gaps and misalignment among other issues.