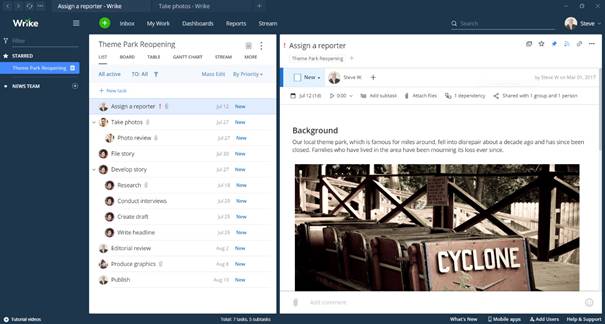 Awarded by Microsoft, the new application offers a "browser-free" experience and prevents users from switching regularly between many tabs.
Wrike, the collaborative work management platform for high performance teams, announces a PC or Mac application that provides a browser-free experience to its users. Wrike, winner of the Windows Developer Awards 2018, has earned the title of Commercial Innovator of the Year , and the two applications Wrike for Windows and Wrike for Mac allow teams to better focus on their daily tasks. avoiding to constantly juggle multiple tabs on their browser.
"We are keeping a close eye on the changing needs of our users," said Andrew Filev, CEO and founder of Wrike. "With the proliferation of digital tools that users must simultaneously manage today, it's important to keep day-to-day management as smooth as possible, and we continue to innovate in this regard, while maintaining the optimization of the day-to-day workflow." user experience among our top priorities. Our Windows Developer Award and the extremely positive feedback we received from our customers largely validate our approach. "
The Wrike application for PC or Mac contains all the features of the cloud version. Its advantages include:
Better focus on daily tasks – Avoid juggling multiple tabs on a browser.

Easier access – Just pin it to the taskbar, and ask it to open automatically when the computer starts.

Better control – More precise configuration of notifications and faster response to changes in Wrike.

Better Visibility – Additional Wrike tasks can be opened in separate windows or in tabs like a browser.
"The Wrike application for PC or Mac, along with integrations into Microsoft Teams and other Office 365 applications, reflect Wrike's commitment to meeting the evolving needs of its customers in a challenging, modern and engaging way. innovative, 'added Chanse Arrington, Windows Developer Marketing Manager at Microsoft. "Wrike's creativity and unflinching commitment to helping users improve their communications, collaborative processes and productivity has earned them the Windows Developer Award this year. "